Meadow Bridge PTA
The PTA is made up of an enthusiastic group of parents and teachers who organise events or both children and adults throughout the school year. This is an important group of people raising funds to provide school with much needed resources and other essential items and services. The members are as follows:
PTA Committee 2021/22
Chairperson: Jonny Pickering
Joint Vice-Chairperson: Claire Mayne & Jennifer Herdman
Secretary: Emma McCartney
Treasurer: Mark Connor
Vice-Treasurer: Demi Scott
PTA Meeting Minutes
Please click on the hyperlink below to access our most recent meeting Minutes of our PTA meetings:
Please come along and support our next event, we would love to see you there!
Record of Past PTA Events
Tractor and Vintage Car Run - Friday 10th September
PTA were delighted to be able to kick off the 2021-22 year with our annual Tractor and Vintage Car Run. We had 65 vehicles of all shapes and sizes registered for the 'Run' this year and despite a very wet afternoon the rain stayed away and we were able to enjoy a fun evening outside.
We would like to say a big thank you to everyone who attended the event, either as a participant or as a spectator, we really appreciate the support and it was lovely to see so many people enjoying themselves while helping to raise money for Meadow Bridge Primary School and also for the P.I.P.S Hope and Support charity.
PTA Treasure Hunt
We are inviting you to join us for our 1st event of this school year.

We are having a car treasure hunt on Thursday 24th September from 6.30pm - 8.30pm

The hunt will take approx 1 hour to complete, it is not a race, a winner will be drawn at random from all correctly completed quiz sheets.

Please purchase a ticket via the school money portal, in the club section. Show your receipt on the night and collect your questionnaire from the school car park within your booked 15min window.

6.30 - 6.45pm / 6.45 - 7pm / 7 - 7.15pm / 7.15 - 7.30pm

Once you have completed your treasure hunt simply return to the school and drop off in our sealed box.

Please note that school facilities will not be open and you are asked not to exit your vehicle in the school grounds.
Thank you for your continued and vital support with our events.
This year will give us some challenges and in the coming weeks we hope to be in touch with our plan for the year ahead along with some important information.
'Loose Change' Cheque Presentation
Just before going into lockdown, PTA facilitated a fund-raising event in school to raise money towards Literacy resources called The Loose Change Challenge.
Mrs Compton's P3/4 class won the competition raising a fantastic £156.50. At our AGM the PTA were delighted to present Mr Good with a cheque for the full amount raised of £830. Thank you to everyone who supported this fundraising event.
Loose Change Challenge
On behalf of the PTA, we want to thank every in the wider Meadow Bridge P.S community for taking part in our 'Loose Change Challenge'.

All of the individual change bottles have been counted and the winning class was announced as Mrs Compton's P3/4 Class, it was an extremely tight race. Each child in the winning class received an Easter Egg as a prize from the PTA.
We want to thank all the pupils and their families for their contributions.
PTA CHRISTMAS FAYRE - Friday 15th November
PTA TRACTOR & VINTAGE CAR RUN
The whole family is welcome to our upcoming Tractor & Vintage Car Run being held on Friday 13th September.

Registration for all vehicles begins from 6:00pm with the Run leaving Meadow Bridge at 7:00pm. Vehicles cost £10 while all other spectators cost £5, both admissions include a 'Farmer's Feast'.

Please plan to attend for a brilliant evening of fun and show your support for our school. Thank you!
Record of Events from 2018/19
'MATHS & MUNCHIES' PTA EVENT
We were overwhelmed by the support shown at our 'Maths & Munchies' event on Monday 4th February.
This event was aimed at empowering our parents when it comes to supporting their children with mathematics and numeracy work. Robert Thompson was our visiting speaker and commented that he had never spoken to such a large group of keen parents and guardians.
A special thank-you must go to our fantastic PTA for providing the delicious 'munchies'.
The PowerPoint of Robert's presentation can be accessed by clicking on the link below:
Mental Calculation PPT - Parents of Meadow Bridge P.S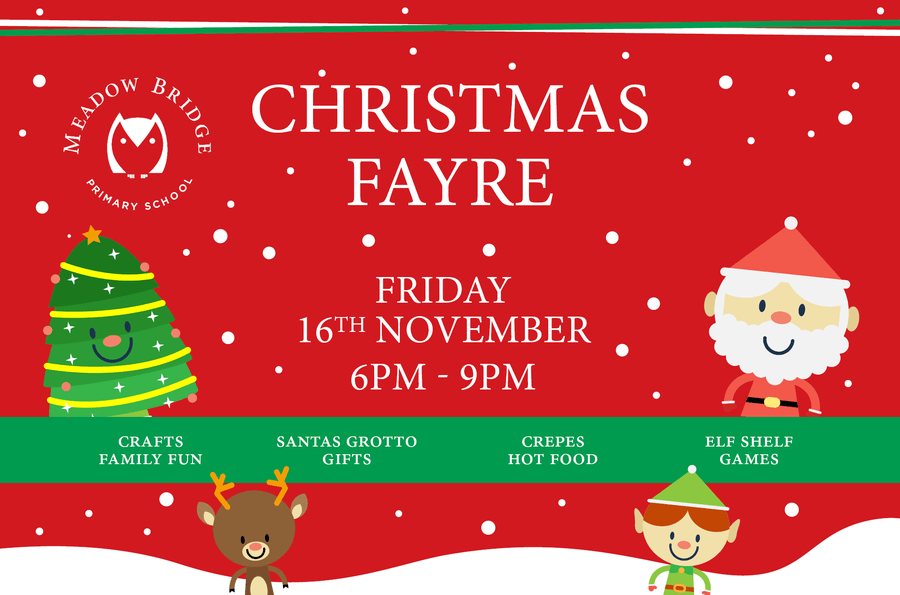 Meadow bridge pta christmas fayre
We are very much looking forward to another successful and busy Christmas Fayre.
This year in the main hall we have a large selection of stalls selling a variety of gifts, homemade crafts, magic tricks and pebble pictures. The PTA stall will be full of surprising treats along with the popular Christmas Eve bags and a 2018-19 Meadow Bridge tea towel.
Due to popular demand the Elf Shelf Room is back! This room is for CHILDREN ONLY! For £1 children can buy and wrap an item for that special person in their life. NOTE THIS IS A PARENT FREE ROOM!
We have been told that Santa may well visit our grotto so it would be best to keep an ear out for some sleigh bells. If you are very good you may get a present and photo taken with Santa!
Refreshments are available throughout the school from hot-dogs in the main hall, crepes in the library and tea/coffee with a mince pie/shortbread in one of the classrooms.
See you all there,
Meadow Bridge Primary School PTA